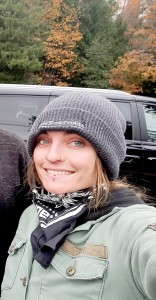 Emily Collins
MSc. Student
Contact Information
Department of Biology
Concordia University (Loyola Campus)
7141 Sherbrooke St. W. H4B 1R6
Montreal, QC, Canada
Office: SP 301.xx
Lab: SP434
(514) 848-2424 (ext. 4021)
emily.collins@mail.concordia.ca
Education
2020 – Present: MSc student in Ecology at Concordia University, Montreal, Canada
2015 – 2020: BSc Honours Biology Concordia University, Montreal, QC, Canada
2012: Certificate in Sound and Music Recording, Recording Arts Canada, Montreal QC
My Project
Non-invasive monitoring of wild chimpanzee (Pan troglodytes) and gorilla (Gorilla gorilla) populations in Campo-Ma'an Conservation Area, southern Cameroon
Background
All species of great ape are listed as endangered or critically endangered by the IUCN. Considerable research, conservation and management efforts have been established to relieve some of the anthropogenic pressures from remaining populations, such as the designation of protected areas. However, accurately assessing the response of populations to conservation efforts is difficult due to high financial and human resource allocations necessary to conduct long-term and consistent population monitoring. Furthermore, invasive methods of bio-monitoring may have unintended consequences resulting from increased human presence within sensitive tropical ecosystems. In response to this, non-invasive remote technology such as camera traps have gained popularity as a monitoring tool. Our study will assess the distribution and occupancy of gorillas and chimpanzees within the Campo Ma'an National Park in Southern Cameroon using remote camera traps.
Field Work
This research will take place during the summer of 2021 in the Campo Ma'an National Park, specifically on Dipikar Island. This island is known to harbor high densities of both gorilla and chimpanzee populations. Intensive recces will take place prior to the field work in order to inform our placement of cameras throughout the study site.
Objectives
Our objective is to assess the feasibility and effectiveness of using remote camera traps as a tool to monitor wild chimpanzee and gorilla populations. We also aim to contribute our knowledge to the broader census of wild great apes within the Campo Ma'an National Park.
Publications
Collins, E. & Jensvold, ML (2020). Communicative Function in the Utterances of Two Signing Chimpanzees. Société Québécoise pour l'Étude Biologique du Comportement (SQEBC) Annual Conference, December 2020 (Poster and presentation).
Collins, E (2020). Can camera traps be used to monitor gorilla and chimpanzee populations in Campo Ma'an National Park, Southern Cameroon. Concordia Natural Sciences Poster and Video Symposium, November 2020 (Poster).