Léa Mimeault
MSc Student
Contact Information
Department of Biology
Concordia University (Loyola Campus)
7141 Sherbrooke St. W. H4B 1R6
Montreal, QC, Canada
Office: SP301.14
Lab: SP434
(514) 848-2424 (ext. 4021)
lea.mimeault@mail.concordia.ca
Education
2023 – Present: MSc in Ecology, Concordia University, Montreal, Canada
2018 – 2021: BSc in Biology (Specialization in Conservation), Laval University, Quebec, Canada
My Project
Impact of habitat loss on elephant movement and their interactions with humans around the Campo-Ma'an National Park, southern Cameroon
Background
The 2019 declassification of 60,000 hectares of forest for their conversion into an oil palm plantation by CAMVERT brings a new threat to the critically endangered forest elephant Loxodonta cyclotis around the Campo-Ma'an National Park (CMNP). As the creation of plantations can create attractive feeding spots for elephants, as well as lead them towards the nearby human village fields, such a major change in landscape is bound to exacerbate the human-elephant conflict by generating a new elephant distribution. Combining the local ecological knowledge and camera trap surveys, the research aims to better understand elephant habitat use and migratory corridors in response to habitat loss to develop appropriate mitigation measures and enable better human-elephant coexistence around the CMNP.
Field Work
This research will take place in May-August 2023 in the Campo-Ma'an Technical Operational Unit that encompasses the Campo-Ma'an National Park (CMNP) and its surroundings, in the southwestern region of Cameroon. Many villages report crop raiding by animals from the park, especially elephants whose population has been estimated to about 596 (range: 368 – 964) individuals. Their home range and migratory corridors remain unknown. 20 remote camera traps will be installed, and surveys will be conducted in different nearby villages for indirect evidence and local perceptions.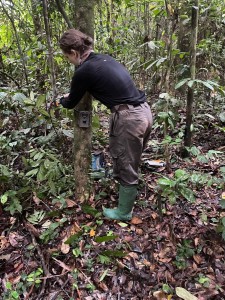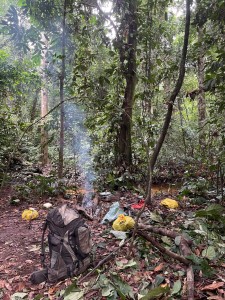 Objectives
The study aims to:
Assess the impact of habitat loss (through conversion of forest to agriculture) on the movement of forest elephants;
Assess people's attitudes and perceptions towards elephants and CAMVERT, and
Propose plans to mitigate conflict and promote ecosystem-based management of the Campo-Ma'an area.
Publications
xxxxxxx
xxxxxxx
Others:
Asselin, A., Mimeault, L., Côté, M. and Déry, F. (2021). Protocol for the quantification of fur damage in moose caused by winter ticks, Chapter of a doctoral thesis, Laval University, Quebec, Canada.
Mimeault, L. and Fortin, D. (2021). Spatiotemporal variation in foraging behavior of free-ranging plains bison (Bison bison bison), Undergraduate Honours Thesis, Laval University, Quebec, Canada.